[If a model has cement buildings in the Land Southward, it fails. They NEVER used cement in the cities of Zarahemla, Nephi, or Bountiful.]
7 And there being but little timber upon the face of the land, nevertheless the people who went forth became exceedingly expert in the working of cement; therefore they did build houses of cement, in the which they did dwell.
8 And it came to pass that they did multiply and spread, and did go forth from the land southward to the land northward, and did spread insomuch that they began to cover the face of the whole earth, from the sea south to the sea north, from the sea west to the sea east.
9 And the people who were in the land northward did dwell in tents, and in houses of cement, and they did suffer whatsoever tree should spring up upon the face of the land that it should grow up, that in time they might have timber to build their houses, yea, their cities, and their temples, and their synagogues, and their sanctuaries, and all manner of their buildings.
10 And it came to pass as timber was exceedingly scarce in the land northward, they did send forth much by the way of shipping.
11 And thus they did enable the people in the land northward that they might build many cities, both of wood and of cement. (Helaman 3)
Why would they only build cement houses in the Land Northward? No one seems to have an answer for that. However, with the true geography, we do – a large deposit of glacial field cobbles. 
The Land Northward in our model covers the area just south of Lake Ontario (Sea North), between Niagara and Rochester. It just so happens that this area, even today, has the largest number of COBBLESTONE homes in all of America (click on image).
Why so many of them? The same reason they only built cement homes in the Land Northward during Book of Mormon times – plenty of cobblestones, which were not plentiful in the Land Southward (South of Buffalo) (Cobblestone House Article).
This also explains why there were no remaining cement structures to be found in the Land Northward. Without a roof covering, the cement would erode leaving nothing but rocks as depicted in the following picture of a wall less than a hundred years old that was only saved by the covering of a metal flashing: 
With metal reinforcement but without a roof covering: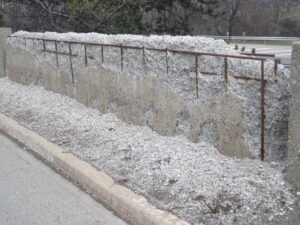 This hypothesis explains Mormon's choice of words best, with the preponderance of material being cement, not cobbles. How they made their cement however is another matter. Modern-day cement requires high temperatures which some have theorized would not have been possible without trees. Of course, there are other forms of fuel than trees:
1. Underbrush

2. Springs evolving Carburetted Hydrogen, or inflammable gas

These abound in the neighborhood of Lake Erie, and the Niagara river (J. H. Mather, and L. P. Brockett, M. D., A geographical history of the state of New York: embracing its history, government, physical features, climate, geology, mineralogy, botany, zoology, education, internal improvements, &c. With a separate map of each county. The whole forming a complete history of the state. Utica, John W. Fuller & Co., 1851, Ibid, p. 31).

3. Petroleum, or mineral oil, called, in some parts of the state, Seneca oil, occurs in several localities, and the shale is often so strongly impregnated with it as to burn freely. Carburetted hydrogen, or inflammable gas, also issues from the surface in a number of places, and in such quantities, as to be used, in one or two instances, for illuminating villages, light houses, etc. (Ibid, p. 27).
Was limestone present? It was, in the best form: "water limestone."
The limestone is extensively quarried in the neighborhood of Niagara river and the Lake. It is not however, generally susceptible of a high polish, but makes a fine building material, when hammer-dressed. Water limestone is found on Grand Island. Petroleum springs rise a few miles southeast of Cayuga creek. Iron pyrites, copper ores in small quantities, and water limestone are the principal minerals. There is a sulphur spring about four miles from Buffalo and one on Grand Island, containing free sulphuric acid in a very diluted state. The bituminous shale, in which the petroleum springs rise, is so thoroughly impregnated with bitumen that it bums freely when ignited (Ibid, p. 379).
**IT SHOULD BE NOTED THAT EVIDENCE FOR THE EXISTENCE OF CEMENT ANCIENTLY IN WESTERN NEW YORK WAS THE BOX INTO WHICH THE GOLD PLATES WERE PLACED. 
---
 CRITICS RESPONSE
Concrete Book of Mormon Evidence


When people approach me with questions about the Great Lakes model of Book of Mormon geography, this is my standard response: 

"Helaman chapter 3 requires a vast area north of the narrow neck where cement was the primary construction material because timber was scarce. Large cities were built almost entirely of cement. Cement structures deteriorate slowly, so even after hundreds or thousands of years, some ruins remain. In the Central Valley of Mexico, north of the Isthmus of Tehuantepec, I have visited the ruins of enormous cities dating from Book of Mormon times that were built almost entirely of cement.

Show me the ancient ruins of large cement cities around the Great Lakes. There are none. So, we can categorically dismiss the Great Lakes model because we are only interested in concrete Book of Mormon evidences" John W. Welch (Reference).
OUR RESPONSE 
Either Welch does not know the scriptures, or he has decided to ignore what they say. If cement is his best reply against a Great Lakes model, he needs to reconsider that "standard response." Why? Those cement homes were built 80 years before the destructions that occurred at the coming of Christ. What destructions?
12 But behold, there was a more great and terrible destruction in the land northward; for behold, the whole face of the land was changed, because of the tempest and the whirlwinds, and the thunderings and the lightnings, and the exceedingly great quaking of the whole earth;
13 And the highways were broken up, and the level roads were spoiled, and many smooth places became rough.
18 And behold the rocks were rent in twain yea they were broken up upon the face of the whole earth insomuch that they were found in broken fragments and in seams and in cracks upon all the face of the land. (3 Nephi 8:11-13, 18)
If "rocks were rent in twain" by the "exceedingly great quaking" what happened to their cement buildings? They would have fared worse than rocks, far worse, for not only would they have tumbled, but their pieces would have been scattered by the "whirlwinds."
And many great and notable cities were sunk and many were burned and many were SHAKEN TILL THE BUILDINGS THEREOF HAD FALLEN TO THE EARTH AND THE INHABITANTS THEREOF WERE SLAIN AND THE PLACES WERE LEFT DESOLATE. (3 Nephi 8:14) 
There are three additional facts that are being overlooked:
They created a shipping business to import timber.
They created a tree conservation program.
There were no cities built entirely of cement; the ratio of wood to cement is unknown.
9 And the people who were in the land northward did dwell in tents and in houses of cement and they did suffer whatsoever tree should spring up upon the face of the land that it should grow up that in time they might have timber to build their houses, yea, their cities, and their temples, and their synagogues, and their sanctuaries, and all manner of their buildings.
10 And it came to pass as timber was exceedingly scarce in the land northward they did send forth much by the way of shipping.
11 And thus they did enable the people in the land northward that they might build many cities both of wood and of cement. (Helaman 3)
The question remains:
How many years passed from the time they began their tree preservation program until their cement buildings were destroyed?
Answer:
80 years
When they rebuilt their homes and cities after the destructions at the coming of Jesus were the trees mature enough to be used?
Yes