One of the keys for finding the Land Bountiful is by locating a distinct Line of Demarcation north of the Land of Zarahemla that extends east to west. The following watershed map shows a distinct watershed that is orientated east to west—Scajaquada Creek Watershed: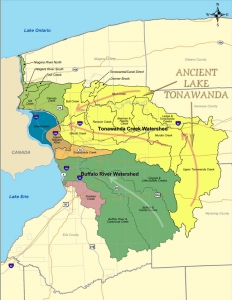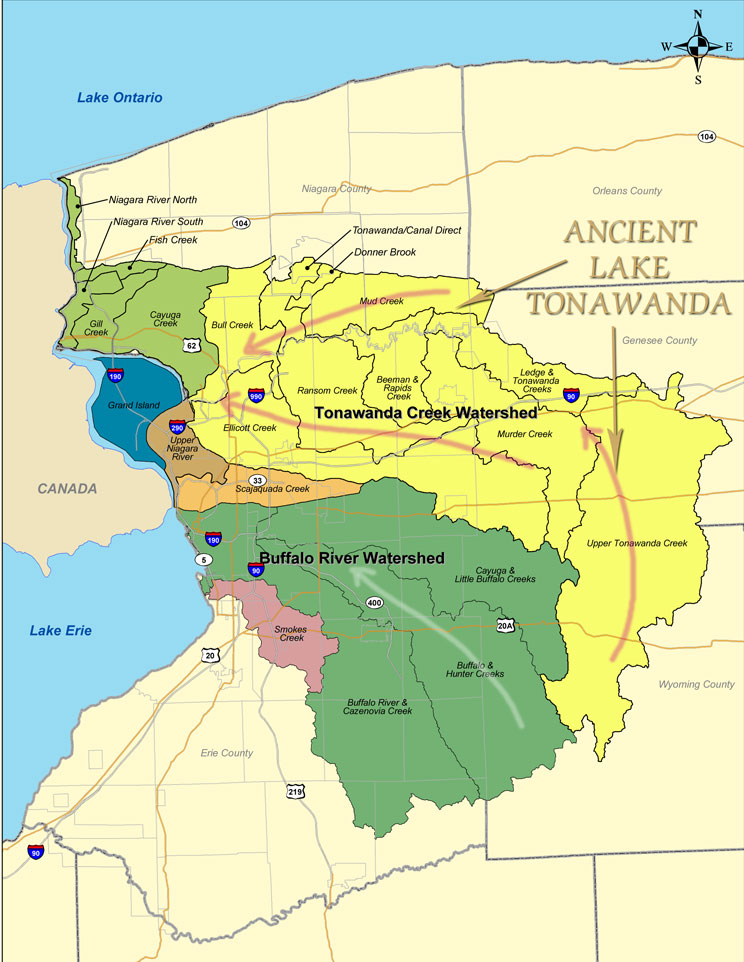 Info
"Originating from several springs in Lancaster and flowing to its outlet at Black Rock on the Niagara River, Scajaquada Creek is about 13 miles long, its entire watershed only 29 square miles. The early explorer Robert LaSalle's Griffon was launched here in 1679 and America's first naval yard was established near its mouth in 1812 to help build Perry's Lake Erie fleet…"

"Today almost 100,000 people live in the Scajaquada Creek watershed…" (Prof. Gerry Rising, Buffalo Sunday News, September 23, 2007, http://www.acsu.buffalo.edu/~insrisg/nature/nw07/0923Scajaquada.htm; http://www.acsu.buffalo.edu/~insrisg/nature/)

"A 13-mile (21 km) stream that drains a watershed of 29 square miles (75 km2), Scajaquada Creek rises in the Town of Lancaster in Erie County, east of Buffalo. The creek passes through most of the Town of Cheektowaga before it is diverted into an underground culvert. The culvert carries the creek for miles through much of Buffalo, emerging in Forest Lawn. The creek passes through the Forest Lawn Cemetery, next to Delaware Park, and over Serenity Falls. The falls has a total vertical drop of 12 feet (3.7 m) in a horizontal distance of 200 feet (61 m). It is one of two waterfalls in Buffalo, along with Cazenovia Park Falls. While the Scajaquada once flowed into Hoyt Lake in Delaware Park, it was buried by 1921 in response to pollution and urban development. Today, it bypasses the lake through a channel and culvert on the lake's south shore. The creek flows through part of the Erie Canal known as the Black Rock Canal, then empties into the Niagara River" (https://en.wikipedia.org/wiki/Scajaquada_Creek)

Photos: https://web.archive.org/web/20091103095845/bac.bfn.org/kayak/br/index.html
God often protects sacred things by inspiring the living to build parks and museums over them. Behold, ancient Bountiful: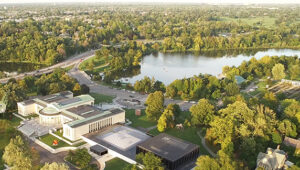 And a current view of the ancient temple location which has been preserved: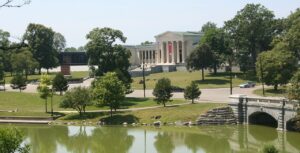 The following map is a work in progress.